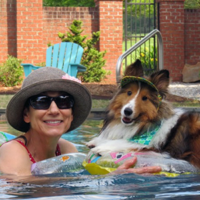 Vera and Beau have been certified as a team for 3 years and currently go to Stanford Middle School in Hillsborough, NC, during the school year as well as doing Exam Paws for both UNC and Duke at both the fall and spring semesters. He is one of a long lineage of Shelties they have had over the last forty years. When Beau came to join the family, we wanted to certify him at a young age. When he is not doing therapy, he is playing Frisbee or ball, with his babies (all 10,000), or running around the farm.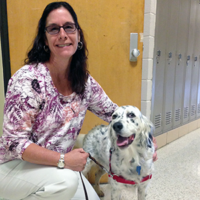 My name is Valerie and my dog is Annie, an 8-year-old English Setter. We have been a therapy dog team since 2011 and an animal-assisted crisis response team since 2013. As a therapy dog team we visit Pathways Elementary and Stanford Middle School, working with children in contained classrooms and also one-on-one as needed and with fourth graders as a pet education experience.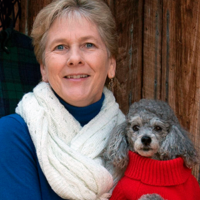 Toby and I have been working with PetPals and Cameron Park Elementary School in Hillsborough for 5 years. We enjoy our early morning Friday visits greeting students before school starts, helping anxious students transition into school, reading with first graders, and helping make school a fun place to be. Students' faces light up when they see Toby in the hallway and appreciate being able to welcome him to school. They are all also very excited when it is their turn to work with him!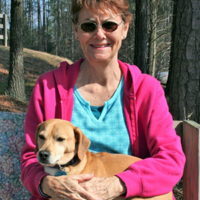 My name is Nancy and I'm the owner of Bennie, adopted in June 2014. Bennie's been certified through Love on a Leash since September 2015. We visit Hillcrest Convalescent Center and Threshold Clubhouse in Durham. He and I are new to PetPals and hope to start visiting students at Hillsborough Elementary. Bennie has blossomed and become a wonderful companion and great pet therapy dog.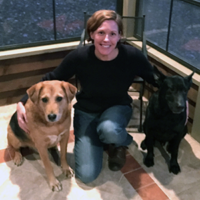 Wade is an 8-year-old German Shepherd and Lab mix who made his way home with us in 2012. With his relaxed demeanor and happy nature, Wade is a natural therapy dog and was certified in 2015. We visited Cameron Park Elementary for a year and recently became the first PetPals team in Durham schools at Pearsontown Elementary School. Wade loves to hike, swim, and go for car rides with his head out the window! Eno is a 7-year-old Bull Terrier and Great Dane mix that we adopted from Pawfect Match Rescue in 2010. He became a certified therapy dog in 2012 and visits Cameron Park Elementary School. Eno loves to play outside with the students we visit and show off his obedience skills. Eno loves to play fetch with his brothers at his namesake river, go for hikes, and run on the beach!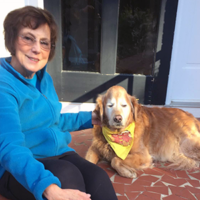 My name is Liz and my therapy dog is Misty. Misty was rescued from a shelter at age two. She has such a kind, gentle, loving spirit and she is certified with Therapy Dog International. We often work with students who have learning or discipline issues. Misty visits New Hope Elementary and is also a therapy dog at Duke Hospital.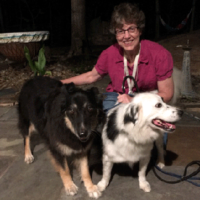 Libby is a big fuzzy German Shepherd and Australian Shepherd mix. She is a shelter-special who we adopted when she was about 3 years old. Libby is amazing- she's about 11 years old now, extremely calm and gentle and a lot of fun to train. In addition to pet therapy, she does tricks and now does nose work, a pet version of what drug and bomb-sniffing dogs do. Libby's calmness and unflappability is her pet therapy super-power. She's big but not scary, like a giant stuffed teddy bear– she doesn't wiggle or jump, she lies down and waits patiently (other than occasionally asking for additional treats!) We have so much fun working with Eastway Elementary School!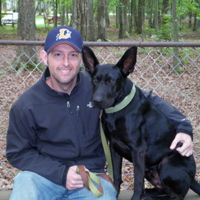 We adopted Eno in 2010 from Pawfect Match Rescue. He is named after the Eno River that runs behind our house in Durham, NC. It is one of his favorite places to hike and swim. Eno is a 7-year-old Bull Terrier and Great Dane mix. Certified as a therapy dog in the spring of 2012, Eno began visiting students at Cameron Park Elementary School in Hillsborough, NC, as part of PetPalsNC in the fall of 2012. Eno has a special love of children and his playful, gentle spirit (and big ears) bring a smile to everyone he meets. Aside from his therapy work, Eno enjoys swimming and playing frisbee with his two rescue dog brothers, Koa and Wade.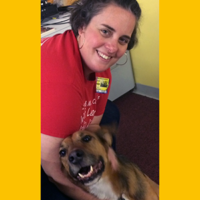 My name is Danielle and my son attends Pearsontown Elementary where I'm a volunteer in the school's media center. Our media center coordinator has a wonderful dog named Bobo. Bobo was already a certified therapy dog when I met her, and after seeing how much my son and I enjoyed spending time with Bobo, our media coordinator suggested that we become certified handlers too.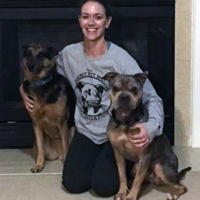 Briley and Morgan are rescue dogs that came from shelters in North Carolina. They both have a great personality for the important work they do. Briley's favorite things to do are going for walks, going to the beach, playing with the cat and taking car rides.  Morgan likes to go for walks, sleep, and play with his toys. It is a true joy to watch them bring smiles to the faces of the kids they work with just by being themselves! We currently work at Cameron Park Elementary School.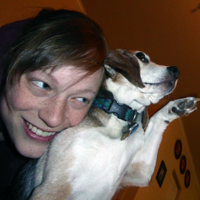 Rosie had a rough start to life as a research beagle. Once I adopted her, she had to learn how to be a dog. Despite this, she has an incredible gift with people and I have decided to share that gift with students. I am a veterinary technician and on my day off, Rosie and I visit the students at Phillips Middle School. It is definitely her favorite day of the week!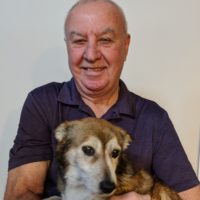 I've been a therapy team with my dogs, Julius and Foster, since 2009, working in different venues including the VA, hospice, Duke Hospital, pubic schools, as well as special events such as de-stress sessions at Duke and UNC. When my boy, Julius, died last year, Foster has pulled double duty, helping students at Pathways Elementary School in Orange County and comforting  patients in the pediatric oncology wing at Duke Hospital, in addition to visits with his mom. Foster is a gifted therapy dog, who takes his work very seriously, gives attention to each person he meets, and always seems to sense who needs him most. Everyone wants to know what kind of dog Foster is, but we only know for certain that he's an incredible dog, and I think his mixed heritage demonstrates that any dog with the right temperament and handler can make a great therapy dog.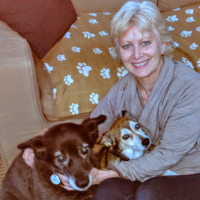 In my role as a social worker, I partnered for several years with my therapy dogs to help students in Orange County Schools, and the impact of those dogs on kids coping with all kinds of issues, was incredible! Julius, one of my three amazing therapy dogs, died in April 2017, leaving Ella and Foster to continue on with this important work. Ella is PetPalsNC's first therapy dog, and has worked with me since 2007, years before PetPals was an official organization.  At 15 years old, she is testimony to the ability of dogs (like humans!) to be productive well into their senior years. I found Ella as a small pup, playing in the road, and this strong-willed girl soon ruled the household of multiple dogs and cats! Ella has brought joy and comfort to hundreds of students and school staff members over the years, and she looks forward to each visit at Grady Brown Elementary.
Foster literally walked into our lives from who-knows-where (or what) when he was a few months old. He is a natural therapy dog and greets every human he meets, which means it takes a while to navigate the halls in the schools!  In addition to his work with his dad, he tag-teams with Ella at Grady Brown, where he helps children with a number of challenges, including those severely impacted by autism.