Meet The Board
---
Below are the current members of the PetPalsNC Board of Directors.
We are presently expanding our Board to include members with key qualities and talents in order to keep our services free and to meet increasing demands to serve more schools. If you have skills that could benefit us and want to work to sustain and grow our organization, please contact us.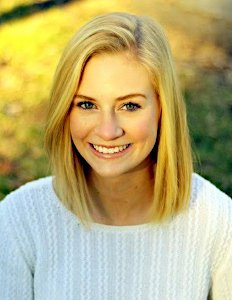 Hannah Campbell – Board Chair
Hannah grew up in Winston-Salem, NC. She received her MSW from UNC Chapel Hill  and her BSW from Appalachian State University.
While interning for PetPalsNC during her final year of graduate school she grew increasingly passionate about the important role that animals play in our lives and in school settings. Hannah currently works for Pisgah Legal Services in Asheville, NC, as a Homelessness Prevention Social Worker. When not working, she enjoys spending time with friends and family, going for long runs, and reading for "fun".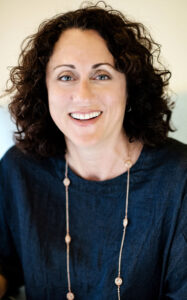 Anna Deonanan – Board Treasurer
Anna Deonanan serves as PetPalsNC's Treasurer and is currently employed as the Finance Associate for the Junior League of Raleigh.  Anna brings 8 years of non-profit accounting practice, along with commercial real estate experience in mortgage finance, portfolio management, and property management.
Anna is an enthusiastic supporter and participant in the local art community.  A graduate of the University of North Carolina at Chapel Hill, Anna is a licensed Real Estate Broker in North Carolina, residing in Raleigh with her husband and two daughters, and two very active adopted dogs.

Maya Weinstein
Maya is an education attorney licensed to practice law in North Carolina and Washington, D.C. She received her J.D. from the University of North Carolina, and has a B.A. in Human Services and Criminal Justice from the George Washington University. Maya has firsthand experience with animal-assisted therapy, having previously volunteered with a therapeutic horseback riding program and personally benefiting from working with dogs.
Maya and her husband are the proud parents of two tabby cats, Atlas and Apollo, and an energetic German Shepherd/Labrador mix, Olympus. She video calls her family's standard poodle, Samson, every chance she gets, and knows the dogs in her neighborhood better than their owners.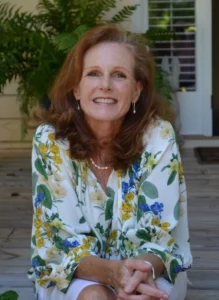 Sherry Freeman
Sherry brings a wealth of experience in the field of education to our board. Sherry holds a B.A. in Mathematics, a M.Ed. in Education, and a Ph.D. in Education. With a strong foundation in teaching and learning, curriculum development, program evaluation, and research-practice partnerships, Sherry's knowledge and experience complement the mission of our organization to enhance students' academic, social, emotional, and behavioral growth through the use of animal-assisted therapy. In addition to her experience in the field of education, Sherry is also a certified pet therapy handler. Together, Sherry and her cheerful yellow Labrador Retriever, Stella, bring smiles to the faces of students in schools through PetPalsNC and provide comfort to patients in hospitals through the Tar Heal Paws.

Stephanie Lalos – Board Secretary
Stephanie grew up in the Scranton, PA area and received a Bachelor's in Economics from Cornell University. She currently lives in Raleigh and works as a Corporate Banking Underwriter at PNC Bank.
Stephanie enjoys spending time with and training her golden retriever, Ozzy. She aspires to get Ozzy certified as a therapy dog. When not working or playing with her dog, you can find her training for her next marathon or eating her way around the Triangle's best restaurants.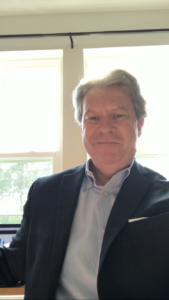 Tom Shaw
Tom retired in 2023 as Vice President, Cisco Systems. He was the executive responsible for Cisco's Customer Experience Organization's largest global clients and the US Commercial Theater which comprised over 250,000 Cisco customers.
Tom's career has been focused on leading and inspiring people and organizations to develop and execute successful strategies in business and government. During more than 30 years of working with the Financial Markets and Banking industries, Tom has been responsible for services and technology sales, client relationship management, business strategy development, business partnership, and industry solutions development and execution.
In addition to his business achievements, Tom has been elected to public office in the State of New Jersey where during his term in office he was responsible for both public finances and public safety. He has also served as Chairman of two non-profit corporations focused on downtown revitalization and development.
Tom believes PetPalsNC's mission of contributing to the well-being of school children through the connection with volunteers and their certified therapy dogs is an example of how to aspire to make a positive impact for all involved. He is passionate about bringing his business, government and other experiences to the board to assist in maintaining and building this organization for the future.
Tom has been married for 40 years, has two children, is dog dad to a Husky named Harper, and currently resides in Durham, North Carolina and Lake Placid, New York.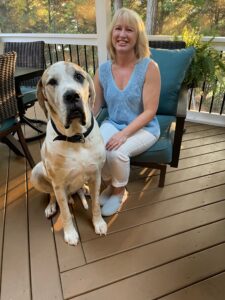 Yvonne Lue
Yvonne has a B.S. in Marketing and a Paralegal Certification.  She worked several years with an athletic company and a healthcare system but transitioned to a school environment after her children were born.  She enjoyed every minute of working as a teacher assistant, teacher resource, librarian, and cross country coach.
Now that her children are grown, Yvonne loves taking Whopper, her Great Dane-Mastiff mix, to therapy events through PetPalsNC and Dogs With a Purpose as a certified pet therapy handler.  When Yvonne & Whopper are not visiting students in the schools, they enjoy participating in agility and dance class together.
Leadership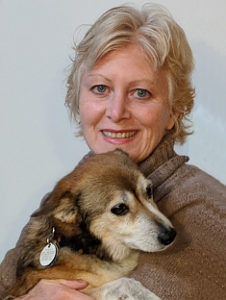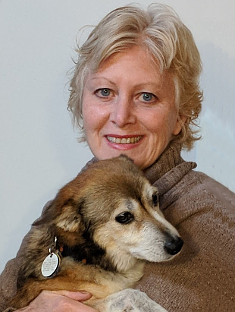 Wendy Stewart, Founder & Consultant
Wendy is a Licensed Clinical Social Worker, with a MSW from UNC School of Social Work.
She is the Founder and served as Executive Director from 2007 to 2022, having begun the program with her own therapy dogs (Ella, Julius, and Foster) in order to reach at-risk kids while a school social worker for Orange County Schools.
Wendy is a strong believer in the power of the animal-human connection, a life-long lover of all animals, a staunch advocate for animal rights, and is mom to Quincy (therapy pup-in-training). When not working for PetPals, she spends time with her grandson and shares farm chores with her husband, caring for their rescued horses, donkeys, goats, and chickens.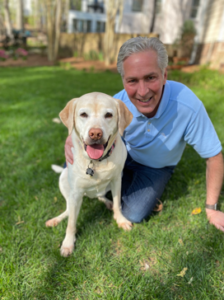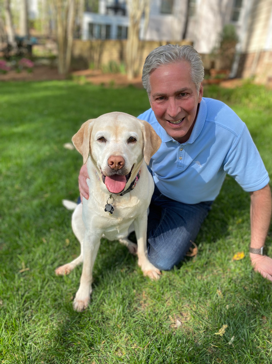 Brad Freeman, Executive Director
Brad is a retired senior executive in information technology and services. He grew up in Berkeley, CA and has spent the last 25 years living and working in North Carolina. His career experience includes engineering, operations and senior leadership roles at Genentech, and Cisco Systems. Since retiring in January 2020, Brad, his wife Sherry, and their therapy dog Stella, have been spending time with family and friends in the mountains, at the beach, and on the lake, kayaking, hiking, camping, and snow skiing.
Brad joined PetPalsNC in April 2022 and is responsible for the continued high-quality program delivery in schools while also focusing on growing resources and capabilities to ensure PetPalsNC is a sustainable organization well into the future. Brad is passionate about doing work that matters and he believes deeply in the numerous benefits of the human-animal bond.