The PetPals Teams
---
Current Teams

Ann & Carlie
My name is Ann, and my therapy dog is a spirited six-year-old black lab named Carlie. Carlie loves to do tricks, take long walks, and go to the hardware store where she knows which people have treats! We became certified with Pet Partners in June of 2022 and are excited to meet new friends.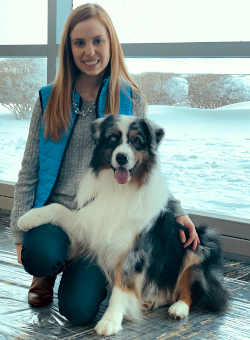 Amanda & Smokin
My name is Amanda and Smokin is my wonderful therapy dog, show dog, and (most importantly) beloved canine companion. We are originally from NY, where I grew up showing and training Australian Shepherds since I was 9 years old. I am currently in dental school at UNC.
Smokin has a goofy personality, smart brain, and boundless energy; though don't let that fool you, he loves to hang out and snuggle too. He is an AKC grand champion and has competed twice with me at the Westminster Kennel Club dog show as seen on television. Now retired from the breed ring, you will often find us training and competing at local obedience and agility shows.
Smokin and I are a certified therapy team through Canines for Therapy. We are so excited to use our skills to give back in the community as a Pet Pals volunteer!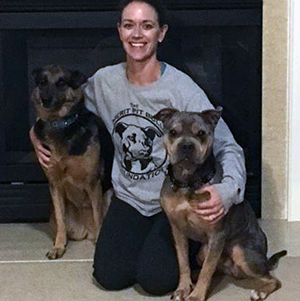 April, Briley, & Morgan
Briley and Morgan are rescue dogs that came from shelters in North Carolina. They both have a great personality for the important work they do. Briley's favorite things to do are going for walks, going to the beach, playing with the cat and taking car rides. Morgan likes to go for walks, sleep, and play with his toys. It is a true joy to watch them bring smiles to the faces of the kids they work with just by being themselves! We currently work at Cameron Park Elementary School.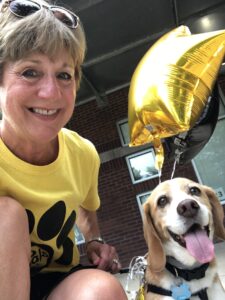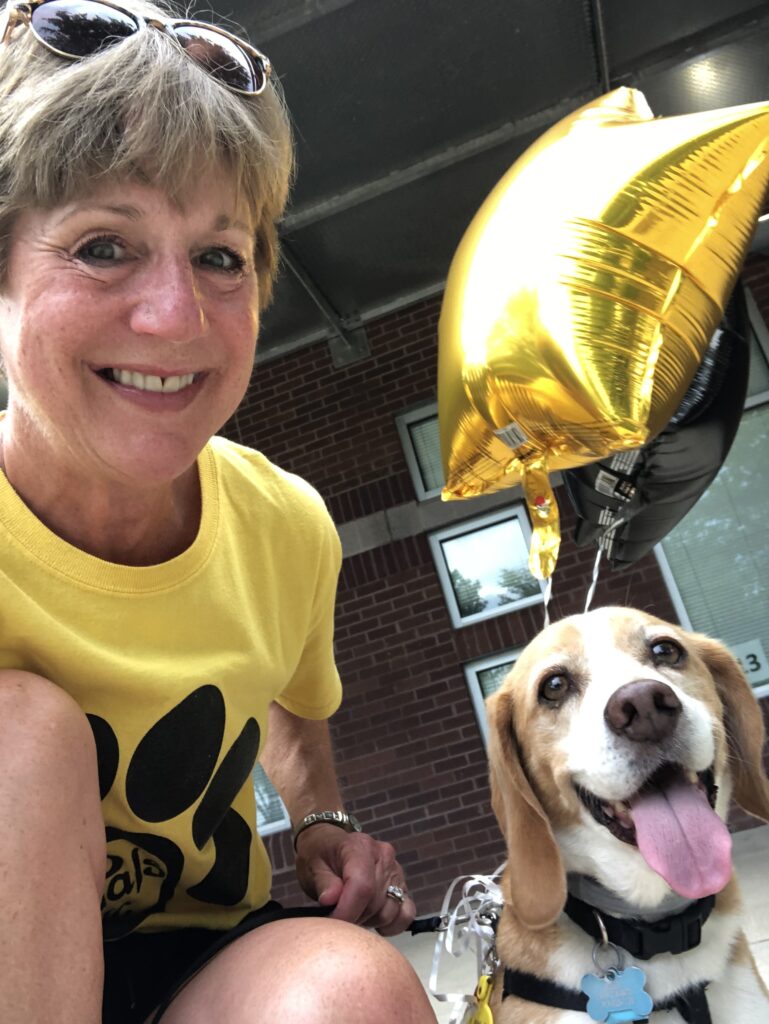 Cathy & Riley
Riley is a 5 year old lemon beagle my husband and I have had since he was almost 8 weeks old.  When I saw a program about children reading to dogs and what a difference it was making, I knew exactly what I wanted to do in my retirement. When I retired from teaching in 2018, Riley was old enough to have gotten some of the wiggles out, and we began our training.  Now, our schedule revolves around Riley's work calendar!  We have been with Pet Pals since 2019, and are the first and so far only team working in Granville County Schools. Riley is a rock star at Butner Stem Middle where he visits the self contained EC class and one-on-one with other students every week.  He also visits the Ronald McDonald House, fills in at the School of Science and Math when needed, and does library reading programs.  When not working, Riley enjoys his time at the beach.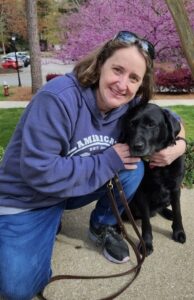 Dawn & Carmel
Carmel was raised and trained by myself to be a guide dog. She decided she didn't want to work the rest of her life so she came back to me to be spoiled. She is 11 years old and absolutely LOVES being a therapy dog. She enjoys, long walks, swimming, and a good bone to chew on. She has never met a stranger, she loves everyone.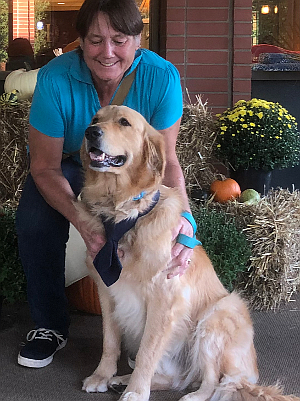 Debbie & Kaci
I have always wanted to work with animals and since I retired this year, this gave me time to start the process. I have 4 dogs, ranging from 18months to 8 years old. Of the 4, Kaci (almost 3) was the first to begin due to his personality and we started in May 2019 to get certified with Love on a Leash. I am planning to start the process with the youngest, my golden doodle,-Rascal, this next May. Kaci's name is Gaelic and since his mother had a K name, it sounded perfect. Kaci and I started with Pet Pals this Oct. and we are enjoying the visits with the middle schoolers.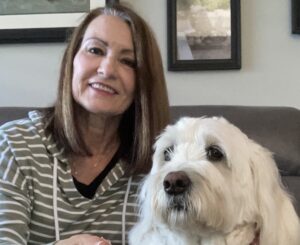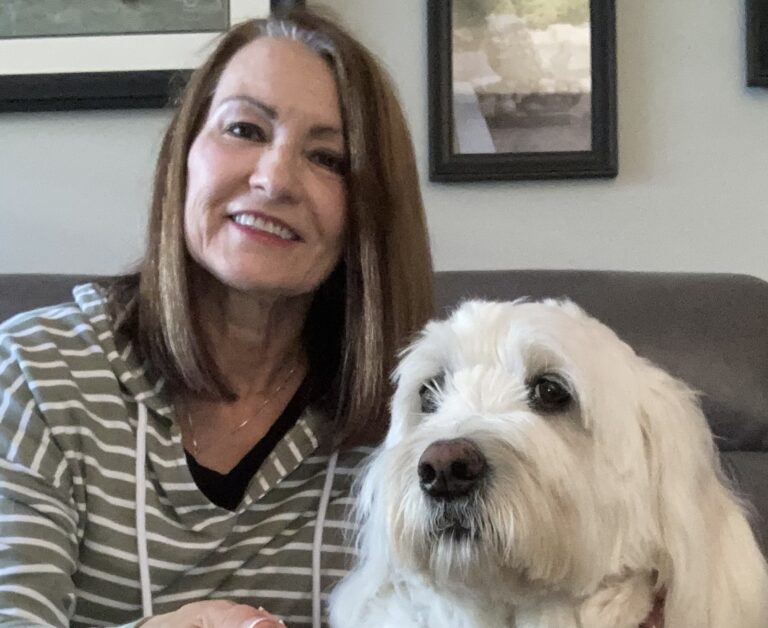 Elaine & Asta
Hello to all. I am Elaine and my therapy dog is Asta. Asta is a Teddy Bear Golden Doodle, and as the "teddy bear" in her breed suggests, she loves pets and hugs. Asta enjoys long walks and being around people both young and old, and of course she loves getting treats. Asta is an AKC certified Canine Good Citizen; and together Asta and I were certified as a therapy team with Pet Partners in June of 2022. Both Asta and I look forward to volunteering and meeting new friends. 

Eudora & Tail
Hi! We are Eudora and Tail. Our pet therapy journey began when Eudora started taking Tail to her forestry classes and work. Tail, originally a shy and nervous dog when first adopted, makes everyone's day and this in turn makes him so happy and he gradually came out of his shell. This year we finally made the move to get trained as a therapy dog and handler team and registered with Pet Partners. Eudora and Tail love hiking, camping, paddling, and basically anything outdoors; once we are indoors we also really enjoy the couch and snuggles.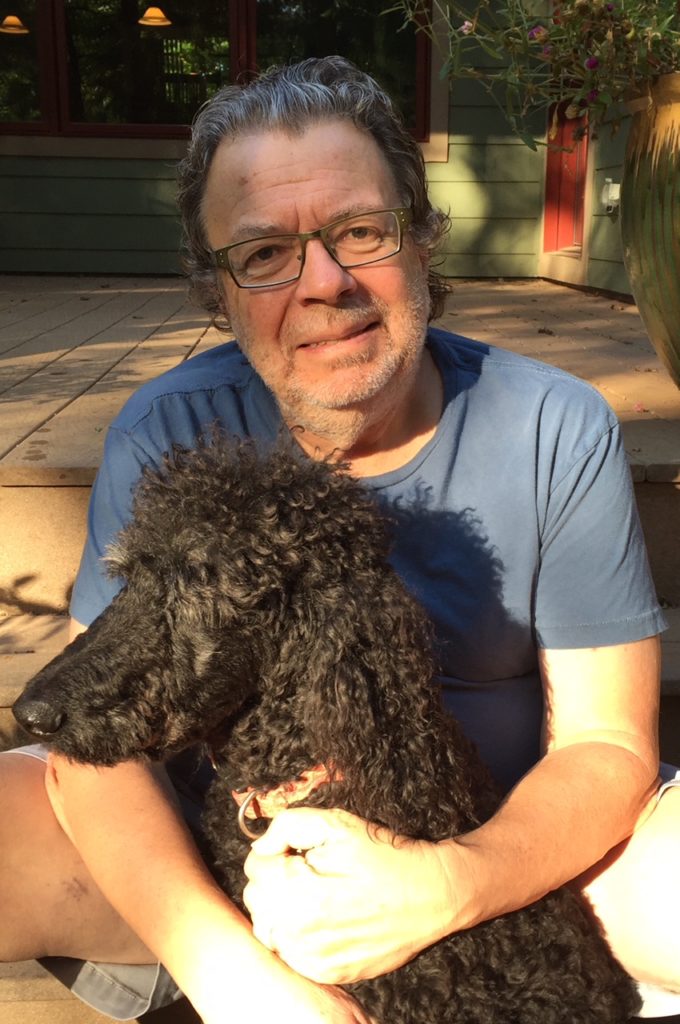 Hans & Della Mae
Hello. My name is Hans Warner, and my partner's name is Della Mae. Della is a 5 year old double doodle. She is a F1 cross between a labradoodle and goldendoodle. She weighs around 57 lbs and is a real sweetheart.
Currently, we visit on a weekly basis at UNC Hospital in Chapel Hill and have been doing so for the past two years. We are certified with Pet Partners. I became a Pet Partner evaluator this past summer and look forward to helping supply more qualified pet teams to the triangle area.
Della and I are looking forward to volunteering with Pet Pals and see it as an additional way to give back to our community.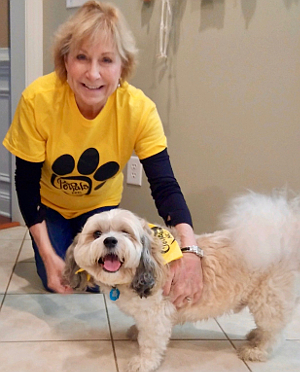 Jeannie & McGee
McGee is a seven-year-old mixed breed–a DNA test shows that his lineage includes Lhasa Apso, Shih Zu, and English Cocker Spaniel! He is an incredibly sweet, lovable, and happy boy whom I rescued at a pet sanctuary during fall 2012. Once he settled in at home, we soon enjoyed weekly visits with my parents at an assisted living facility, where he had many fans. That experience told me that he had the potential to become a registered pet therapy dog, and thus, the training (and lots of practice!) began in earnest. We became an official Pet Partners team in December 2017.
As members of TarHeal Paws, McGee and I have visited the UNC Hospitals most every week since the summer of 2018. Since fall 2019, we now enjoy bi-monthly visits at UNC Children's Hospital and at Pediatric ICU, and spend time with elementary school students as new members of PetPalsNC.
McGee absolutely loves his job—he has, without a doubt, found his life's calling!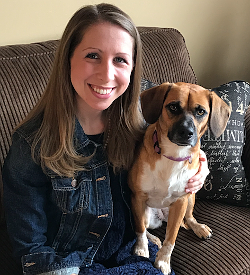 Kelsey & Lexi
Lexi is a two year old Beagle/Russell Terrier mix from a shelter in Woodford County, Kentucky.  She is a spunky puppy, full of energy and love, and is always up for new adventures.  We just finished our pet therapy certification through Alliance of Therapy Dogs, and are both excited to spend more time serving our community.
Lexi loves to be around people – her energy is infectious.  When we aren't volunteering, Lexi spends her time making new friends at the dog park, playing fetch, swimming, hiking, and traveling.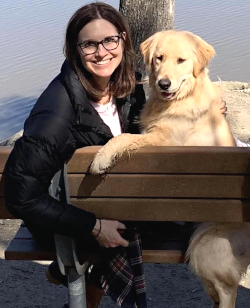 Kerrie & Maggie
Hi! My name is Kerrie and my sweet furry friend is Maggie. Maggie absolutely loves tennis balls, especially fetching tennis balls at the lake. She could jump off our boat and swim to grab the tennis ball all day! She even rolls the ball into the water herself and then jumps in after it, which is so much fun to watch! At home, Maggie mostly likes to look out our front door and keep watch on the neighborhood, though, honestly, she does fall asleep there a lot.? Getting belly rubs and playing with friends are also some of Maggie's favorite things, which makes Maggie love when she is going to "work" at a pet therapy opportunity!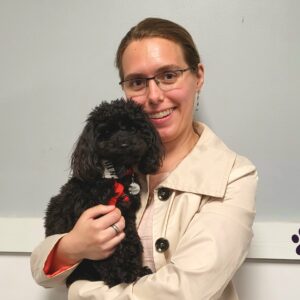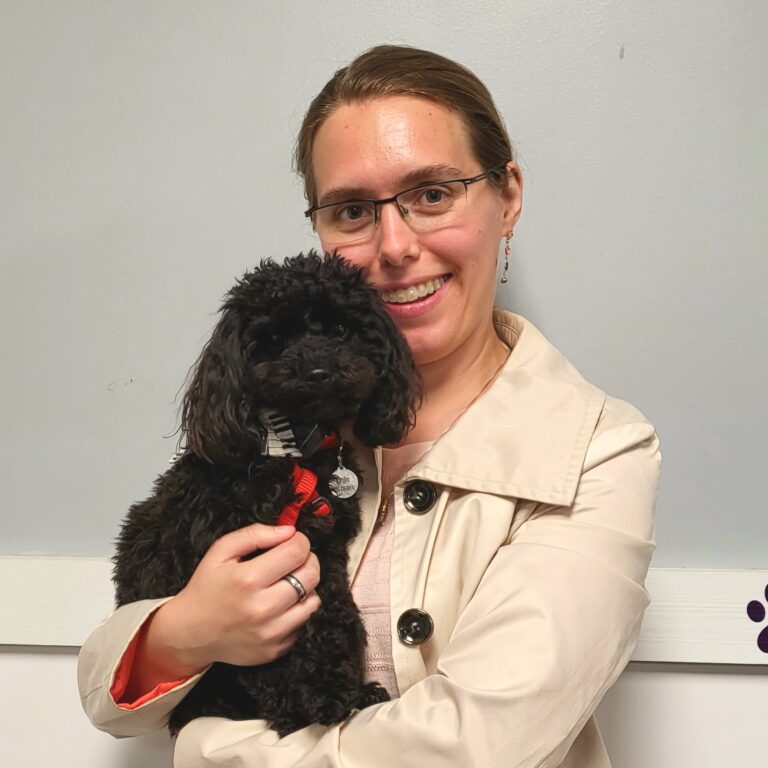 Kirsten & Kimiko
My name is Kirsten and my doggy partner is Kimiko, Kimi for short (pronounced Kee-mee). She is a 2-year-old cockapoo who keeps trying to convince me that all she needs in life is ball and love. She loves making new friends by playing ball with them, and we are both excited to be volunteering and sharing her love with the world. We certified with FourPawsNC in April 2022. I am a church music director, so Kimi is also a very musical doggy – she's been known to curl up by the piano when I am practicing, but really, play time is always the best time.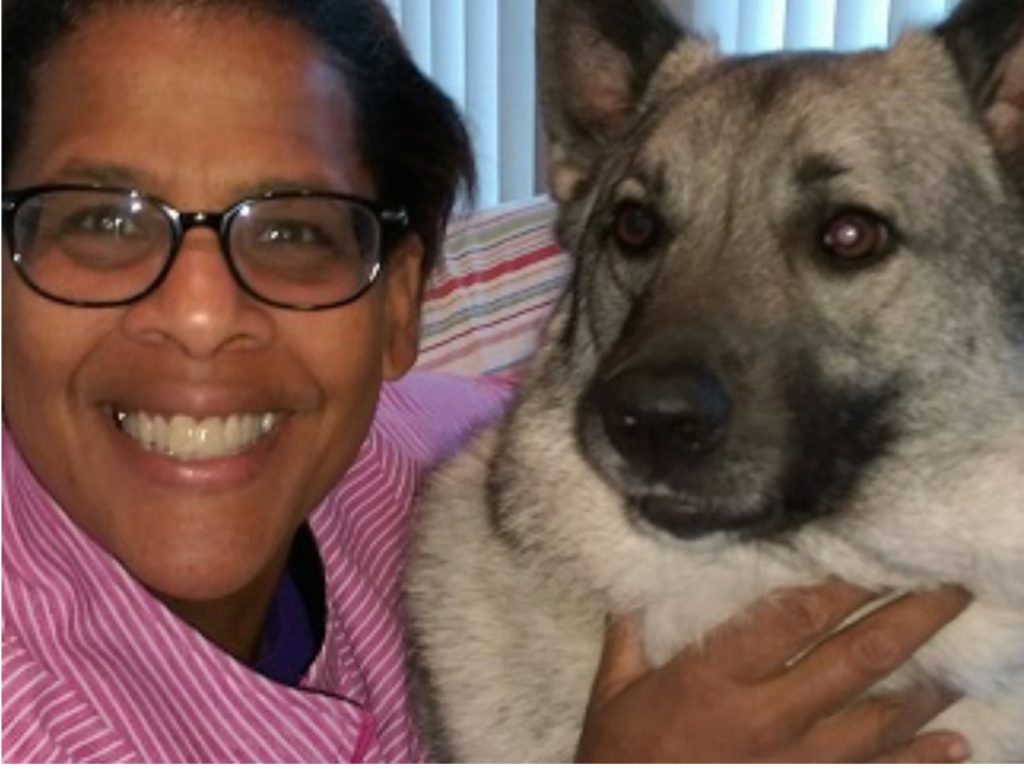 Lori & Nikolaus
My name is Lori and my therapy dog is Nikolaus. We were certified as a therapy team through Pet Partners in December of 2016. Nikolaus is a four-year-old Norwegian Elkhound. He is the fourth Elkhound I have had over the years and is, by far, the most well-suited for therapy work. He is a 60-pound lap dog who loves to be petted. He also has the most soulful and expressive brown eyes that connect with the humans with whom we work. His eyes speak volumes as if to say, "You are the most important person in my world right now."
We work at Hillsborough Elementary School, Duke Regional Hospital and the North Carolina School of Science and Math. Nik recently made a guest appearance at the Petco Foundation's 'Meet a Helping Hero Day' at the Durham Petco. When he is not relaxing on a couch or being petted, Nikolaus loves hiking, taking agility classes and participating in Barn Hunt (canine nose work).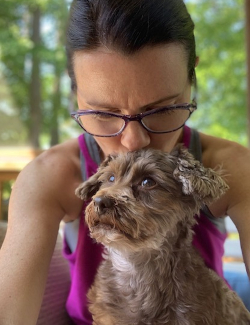 Michelle & Lulu
Lulu is an 8 year old poodle mix. I found her coming out of a ditch while driving down the road. She was in bad shape and had just had a litter of puppies. Unfortunately, we were unable to find her puppies but she was part of our family from day 1. She has always been kind, loving and patient with her human siblings, now 8 and 12.
We completed Lulu's training with the Alliance of Therapy Dogs in March, 2021 and are very excited to be a team with PetPalsNC. She loves snuggling, going for walks/rides in the car and lying in the sun, especially if it's in the sand on the beach. As long as she doesn't have to go in the ocean, she's happy!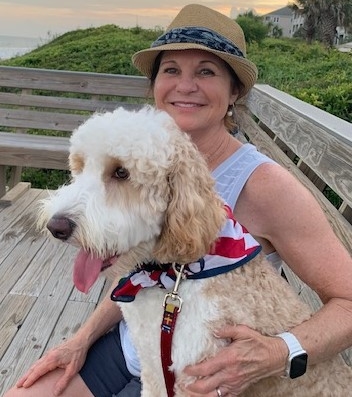 Rita & Sailor
Ahoy! I am Rita and this is my first mate…Sailor! Sailor is an Australian Labradoodle. He loves to run on the beach, take boat rides and perform tricks! His fur is so soft. It makes him smile when you rub his chin or scratch his back.
Sailor is a Certified Therapy Dog through Dogs With A Purpose. He also has his Canine Good Citizen title and several trick titles. We are looking forward to volunteering with Pet Pals at Creekside Elementary in Durham. See you out there!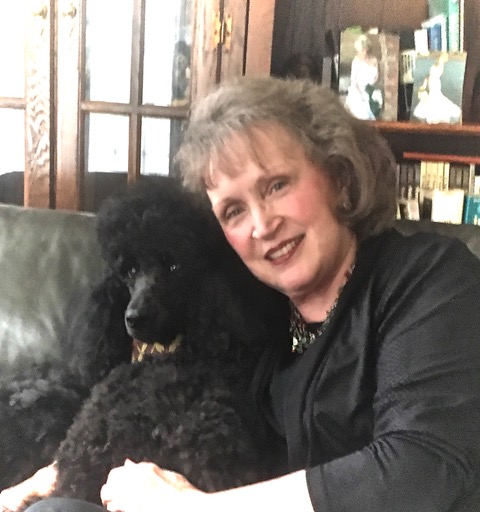 RoseAnne & Simone
Simone and I joined PetPals in 2018 through Love on A Leash and are currently working at Central Elementary School in Hillsborough NC.
Simone is such a ray of sunshine to everyone she meets and always reaches out to shake hands (paws) to make sure everyone feels welcome. She also participates in a variety of other AKC performance activities and is titled in Rally, Obedience, Lure Coursing, is a Canine Good Citizen Advanced dog and certified as Farm Dog as well as a Therapy Dog.
We continue our training in a variety of fun activities to enhance our life and make it fun.

Sherry & Stella
Hello! We are Sherry and Stella. Stella is a 10 year old yellow English-Style Labrador Retriever with a super sweet temperament. Stella and I both love anything that involves being on or in the water. Stella has especially good balance and will jump at the opportunity to go paddle boarding or kayaking. Not surprisingly, Stella is also an excellent retriever. Balls, sticks, water toys — if you throw it, she will retrieve it! Stella and I were certified through Pet Partners in 2022. Since that time, we have volunteered in schools through PetPalsNC and in the UNC Children's Hospital through Tar Heal Paws.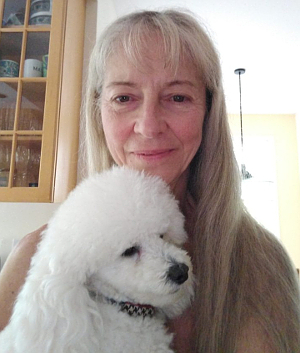 Vicki & Remy
Remy is a white toy poodle, born in 2015 … and a real LOVER BOY!! He gets along with all humans and dogs, and is very well-mannered when not at home. Seeing what a big hit he was in a nursing home environment, I took him through the therapy dog certification with Love on a Leash.
Remy absolutely loves going to Smith Middle School! He is so wonderful with the kids (and staff!), very gentle, patient, happy and fun. He always goes around and makes sure that everyone gets his love and attention.
I am a semi-retired IT Consultant. My Aussie husband and I have lived in Chapel Hill since 1990. Remy has a beloved adopted brother, Rocky, who is a black toy poodle that is 10.5 years older than him.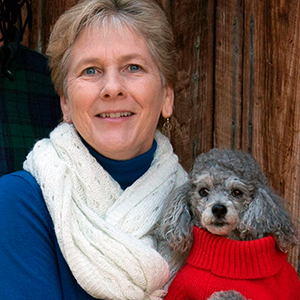 Vicki & Toby
Toby and I have been working with PetPals and Cameron Park Elementary School in Hillsborough for 5 years. We enjoy our early morning Friday visits greeting students before school starts, helping anxious students transition into school, reading with first graders, and helping make school a fun place to be. Students' faces light up when they see Toby in the hallway and appreciate being able to welcome him to school. They are all also very excited when it is their turn to work with him!
Yvonne & Whopper
Hi Everyone! I'm Yvonne and this is my pal, Whopper. Whopper is a sweet, lovable, 2 year old Scooby-Doo-esque Great Dane/Mastiff mix. He has his Good Citizen Certification as well as his Therapy Certification from Dogs With a Purpose.
Whopper loves traveling, meeting people, and he loves all the attention he gets everywhere he goes. In addition to his therapy visits, Whopper loves his weekly agility classes, especially the A-frame. He does agility just for fun and not for competition. His favorite pastime is to lay his head on your lap and have his ears rubbed.
---
Former Teams

Alex & Boo Boo
Boo Boo is a fluffy ball of love. The only thing she likes more than pets from people is running and jumping at her agility class. She's volunteering with her mom to spread her love to kids and hopefully get some cheese as a reward after. When she's not volunteering, you're most likely to see Boo Boo on a walk with her Pomeranian brother Yogi the Bear.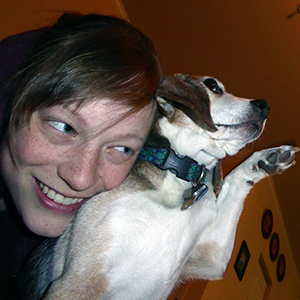 Allison & Rosie
Rosie had a rough start to life as a research beagle. Once I adopted her, she had to learn how to be a dog. Despite this, she has an incredible gift with people and I have decided to share that gift with students. I am a veterinary technician and on my day off, Rosie and I visit the students at Phillips Middle School. It is definitely her favorite day of the week!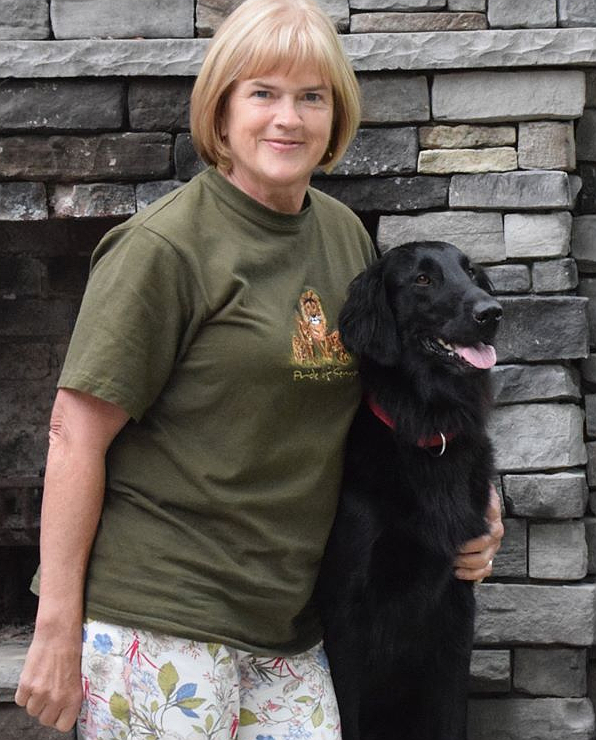 Christine & Sadie
Sadie is a 4 year old flat coated retriever who is very active in the breed ring, rally, agility, obedience and dock diving. She loves people and was certified as a therapy dog through Bright & Beautiful in May 2019. We are enjoying our time with the students at Lucy Daniels School, as well as with hospice patients at Brookdale Assisted Living.
Sadie lives with her "Uncle" Coal, an 8 year old flat coat who is littermate to her mother. Sadie's absolute favorite thing is her red Kong frisbee, which she retrieves dozens of times every day! She is also crazy about swimming and long hikes in the woods, where she chases anything that moves – leaves, sticks and of course her frisbee!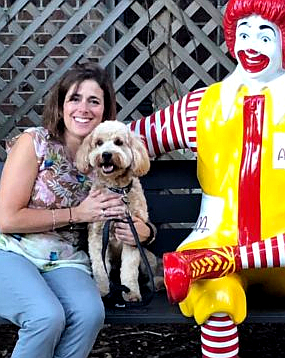 Deb & Finley
My name is Deb and my therapy dog is Finley. Finley is a two year old mini golden doodle who absolutely LOVES people. I have had Finley since he was a baby and look forward to sharing him with others. Finley enjoys eating, swimming and running around with his little red ball.
We just finished our training through Love on a Leash. As a former teacher, I am looking forward to volunteering at Ephesus Elementary. We hope to continue visiting the Ronald McDonald house, as well as nursing homes, as it brings me great pleasure to see how the patients light up when they interact with Finley. As a cancer survivor myself, I am also hoping to get involved with Pets at Duke.
Diane & Jackson
My name is Diane Zimmerman, and I volunteer with my wonderful dog Jackson. He is a large cockapoo, as his grandparents were a standard poodle and a cocker spaniel. Jackson was born in Seattle, WA. on Christmas day, 2018. He flew back to NC with me when he was 11 weeks old and did not make a peep on the airplane. As a puppy, he demonstrated a very calm and affectionate temperament. I knew he would be a wonderful therapy dog.
We are certified with Pet Partners and began visiting libraries and schools in 2013. With Pet Pals, we have volunteered at Hillsborough Elementary School and are now at WG Pearson Elementary in Durham. He loves everyone, especially children and sits quietly when they read to him. Jackson is very cute and soft, he loves a good belly rub and will do almost anything for a treat. At home, his job is chief greeter – he brings a toy to everyone who enters his house and does a little dance for them. Jackson brings me great joy everyday.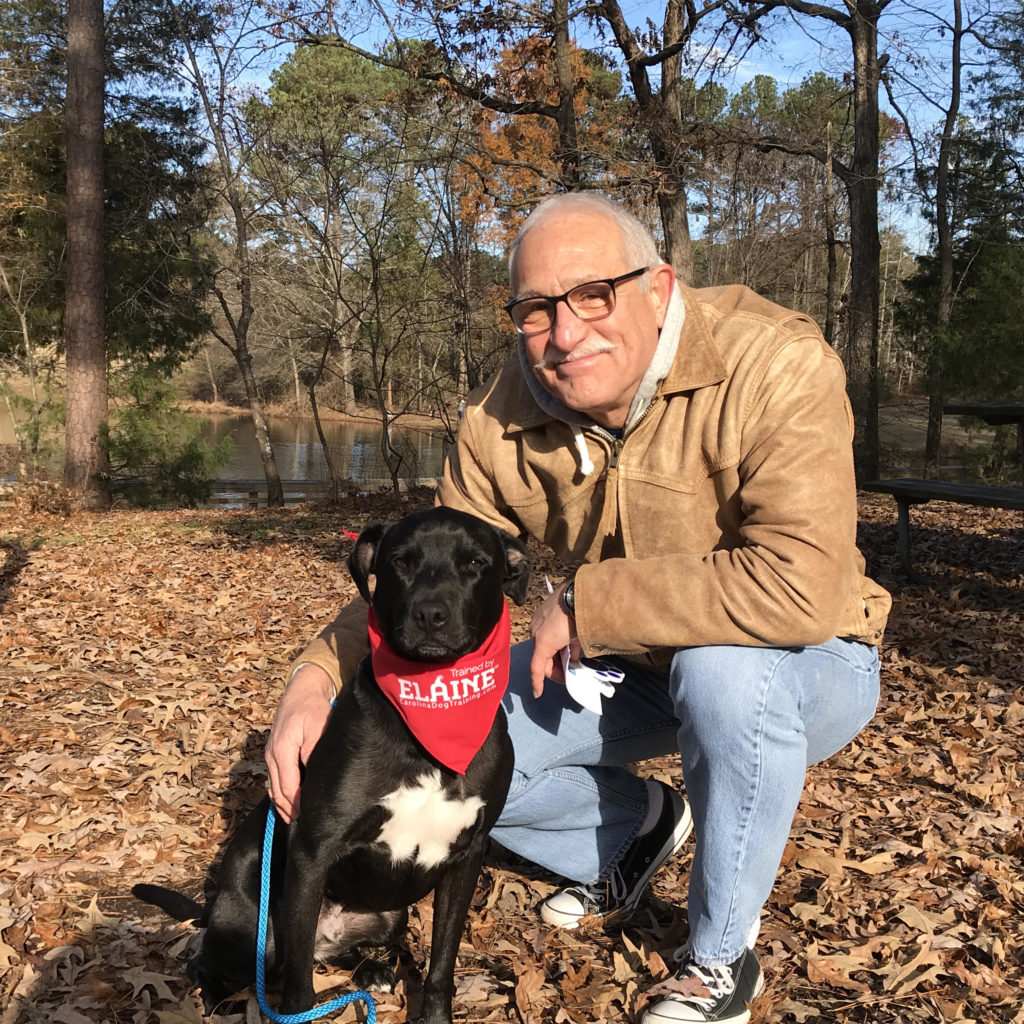 Doug & Bruno
Bruno is an exuberant three-year-old lab-pit mix that still acts like he has won the lottery when my alarm goes off and every time I walk in the door. He has an insatiable appetite for affection and never tires of chasing balls and squirrels.
We are a registered therapy dog team with Pet Partners as of January 2019.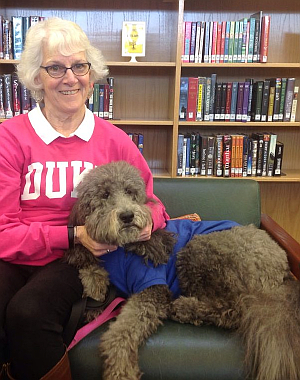 Ginny & Pandora
I'm Ginny Murray and this is a picture of Pandora and me on Spirit Day at the middle school we visit each Wednesday. I also call her Pandy.
Pandora is a Labradoodle, and she has been involved in Pet therapy for quite a few years. She is like a big grey teddy bear, and she loves visiting students and the staff. Some students read to Pandora. In the classroom, she is usually on the rug greeting the students working on their assignments. When we are in the library, many other teachers, staff and other students come to get some love from her. She doesn't disappoint them. She can pick up on a student if they are having a difficult day, and she goes right to them. Pandora is always excited when I put her bandanna on her and pick up her bag. She knows she is going to work. She jumps in the car wagging her tail. When we enter the school, she prances down the hall looking for someone to greet. I enjoy being her handler and watching her brighten many faces!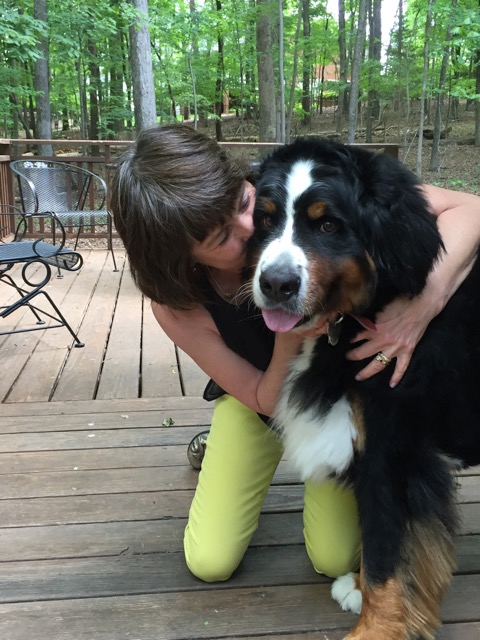 Holly & Zephyr
I first began working with PetPals in 2012 with Zeus, my first Bernese Mountain Dog. We worked as a team at Stanback Middle School in Hillsborough in the self-enclosed classroom. Now I partner with Zephyr, a 4.5 year old Bernese Mountain Dog who was certified with me by Pet Partners in 2017. We have been working with children at Northside Elementary School in Chapel Hill. We are new team in a new school. Zephyr loves the library there because it is carpeted. He does not like tiled floors because they are slippery! We're working with individual children at the school, listening & helping with their reading. Zephyr enjoys getting a piece of cheese from the children when he has done a good job listening to a story. He's pretty much a big love bug & often rolls over for a tummy rub.
We tried to work as a therapy team at the UNC Hospital, but the shiny marble atrium was too daunting for Zephyr. But we would like to try working with college students at exam time. I think that working as a therapy team benefits the team at least as much as it does the children we work with. It strengthens my bond with Zephyr, as well as giving me the joy of working with great kids.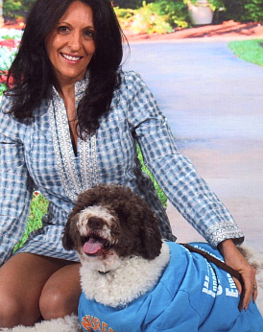 Jasmine & Lucia
Lucia and Jasmine work as a pair in Holly Ridge Elementary School and Oak View Elementary School, providing support for children and staff, as well as boosting school morale with their attendance incentive programs.
Jasmine has been a school social worker for 22 years. Lucia was born in 2016, but she's already an all-star! She was certified with Bright and Beautiful Therapy Dogs and is eager to continue learning and developing her therapy dog skills. Lucia has comforted children dealing with loss of a parent, anxiety, and PTSD. The school loves what Lucia brings to the atmosphere; teachers & staff say she just makes them happy, and they love having her around. Staff and parents see new specific ways in which she can help, – like visiting the special education class, helping the speech therapist with a student with selective mutism, meeting with a student displaced by Hurricane Maria in Puerto Rico.
Lucia came all the way from Italy as a puppy. She is a Lagotto Romagnolo, an old breed coveted in Italy as a native truffle hunting dog. At home, she hunts treats and balls, but would rather lounge on the couch than truffle hunt. Jasmine enjoys photography, spending time with family, Lucia, and her rescue horse Yabba.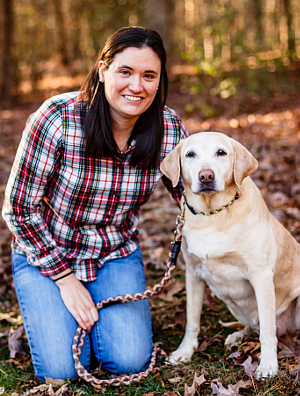 Katherine & Abby
Abby is a 12 year old yellow lab who was rescued from the Orange County Animal Shelter. She is a therapy dog at Culbreth Middle School and Duke Hospital. She loves everyone, especially kids. True to her breed, she loves to eat, and her favorite food is apples. Not true to her breed, she is one of the few labs who can't swim and doesn't fetch.
Her favorite toys are extra large stuffed animals. She currently has 2 teddy bears that are larger than her that she drags around the house and cleans carefully everyday.
La Tasha & Rusty
Rusty is a 4 1/2 year old golden retriever we adopted as a puppy. He loves to play with kids, hike, swim in rivers, and learn new tricks, especially when treats are involved. He was certified as a pet therapy dog through Love on a Leash about 2 years ago. He has visited the Ronald McDonald House, nursing homes, Duke University, and special needs camps. We just started visiting a public school in North Durham where Rusty is getting tons of love from the students and teachers.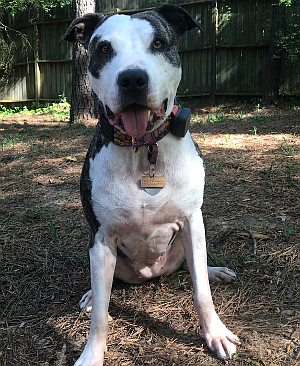 Lauren & Mosey
Mosey is a 5-ish year old bully mix that was adopted from Orange County Animal Shelter 4 years ago. Even though she had a rough start to life, she has always loved people and seems to have a knack for understanding when someone needs to be cheered up. She is certified with Therapy Dogs International (TDI), and we are excited to start working together at a school! When Mosey is not working as a therapy dog she loves to hike, take naps, and hang out with her cat.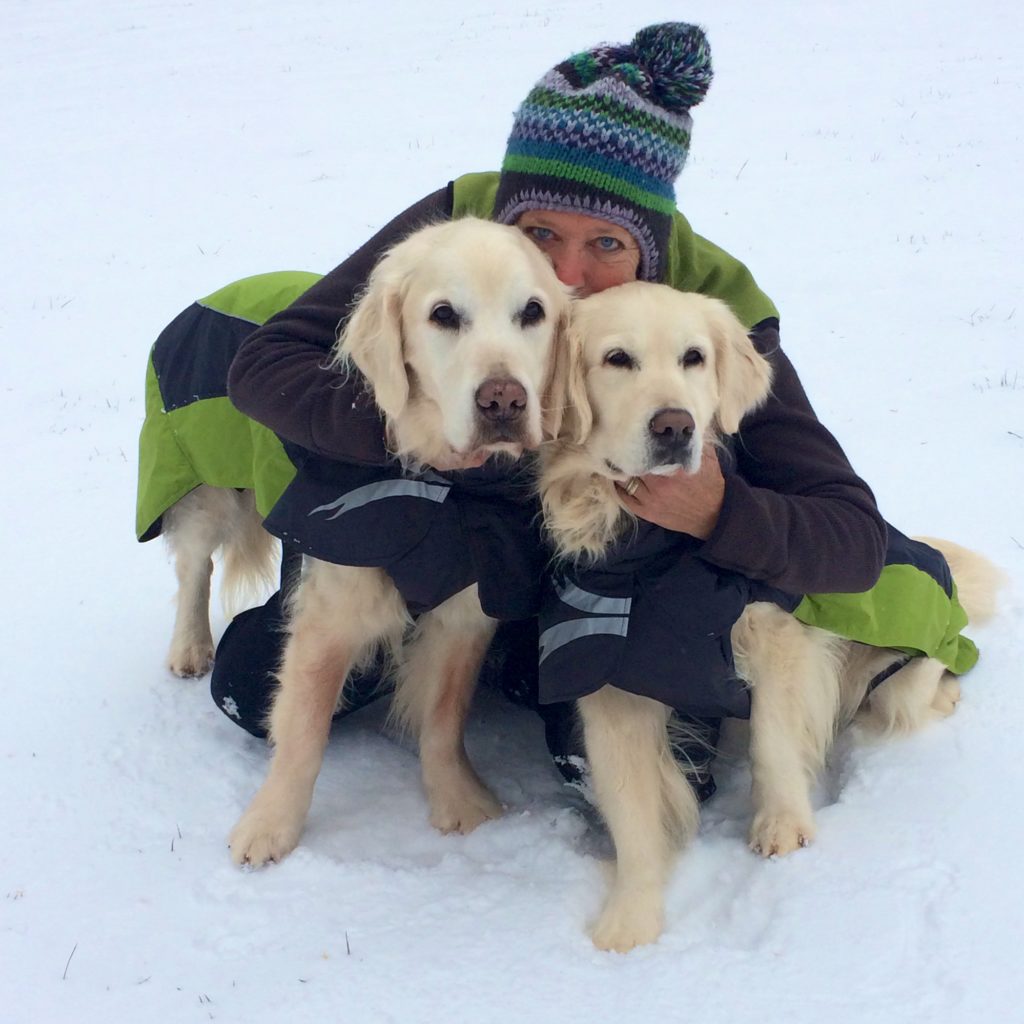 Lisa, Aspen, & Izzie
We have worked at Triangle Expedition, New Hope Elementary School and Cameron Park. Aspen is 9 yrs old and Izzie is 6 1/2 yrs old and are Golden Retrievers. They have been certified therapy dogs with Therapy Dog International since they were 1 yr old. We also volunteer with the Pets at Duke program.
In addition to therapy, Aspen and Izzie compete in agility competitions, love hiking and swimming, and also are greeters at Paws at the Corner, a local pet supply store.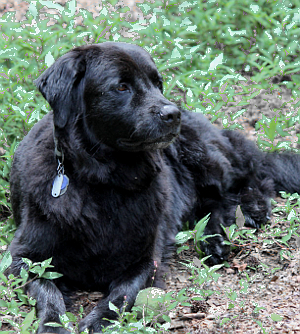 Louise & Cosmo
We got Cosmo about 9 years ago from a family who had adopted him from a shelter in Louisburg. They had several children, including a little girl, 2 years old, who weighed all of 20 pounds. Unfortunately, Cosmo did not receive any training, and every time he wagged his tail, she went flying.
Our little Wizard had passed and it was time for a new dog. We found Cosmo and fell in love.But when HE saw a squirrel, I went flying! So it was time for Cosmo to go to school and learn how to walk on a leash and not chase squirrels. He went to school and learned to sit and walk on a leash. Then, he got his Canine Good Citizenship award. He went back to school and finally passed the Therapy Dogs, International test and was a therapy dog.
Since then, Cosmo has visited Nursing Homes and rehabilitation facilities, Universities, a Hospice camp for children who have lost loved ones, and finally….Pet Pals!!!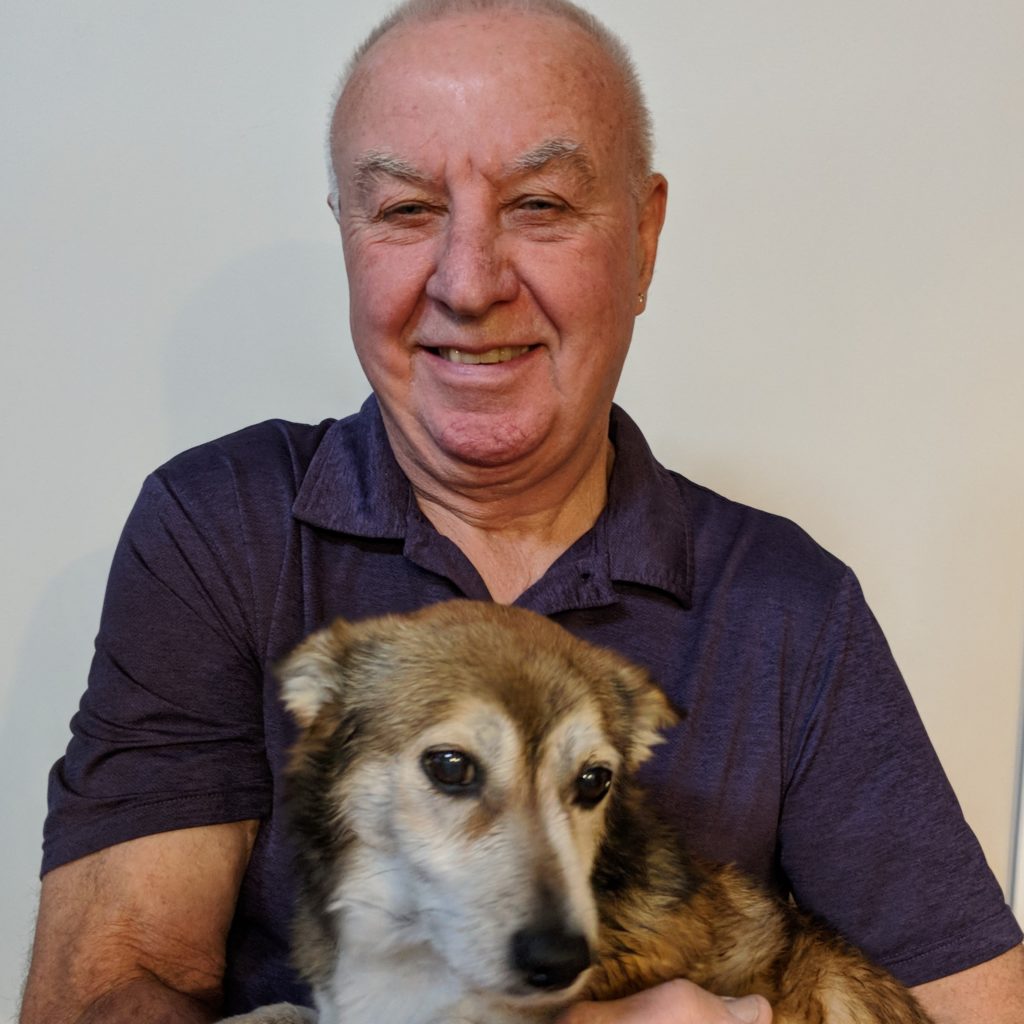 Mike (and Wendy) & Foster
I've been a therapy team with our dogs, Julius and Foster, since 2009, working in different venues including the VA, hospice, Duke Hospital, pubic schools, as well as special events such as de-stress sessions at Duke and UNC. When my boy, Julius, died last year, Foster has pulled double duty. He has been helping students at Pathways Elementary School in Orange County and comforting patients in the pediatric oncology wing at Duke Hospital, in addition to visits with his mom.
Foster is a gifted therapy dog, who takes his work very seriously, gives attention to each person he meets, and always seems to sense who needs him most. Everyone wants to know what kind of dog Foster is, but we only know for certain that he's an incredible dog, and I think his mixed heritage demonstrates that any dog with the right temperament and handler can make a great therapy dog.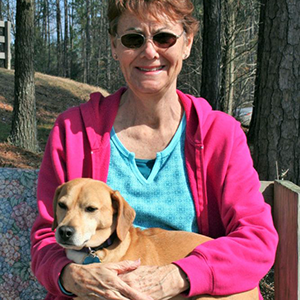 Nancy & Bennie
My name is Nancy and I'm the owner of Bennie, adopted in June 2014. Bennie's been certified through Love on a Leash since September 2015. We visit Hillcrest Convalescent Center and Threshold Clubhouse in Durham. He and I are new to PetPals and hope to start visiting students at Hillsborough Elementary. Bennie has blossomed and become a wonderful companion and great pet therapy dog.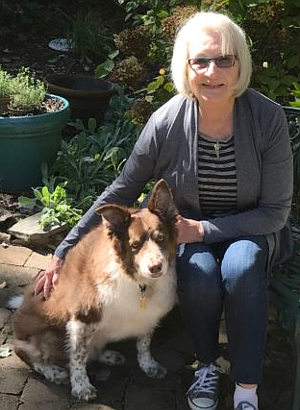 Pat & Cody
My late husband and I got Cody when she was 12 weeks old. We got her from a farm in Pittsboro. I was the assistant to the Director of the Upper School at Durham Academy for 31 years. One of our students died tragically and therapy dogs were brought in to comfort the students. I thought that would be something that Cody and I could do to help young people.
My husband died from cancer 10 years ago, and Cody really became my therapy dog, I could see how comforting she could be and decided to share her with others. We see students at New Hope Elementary and are very fond of that wonderful place.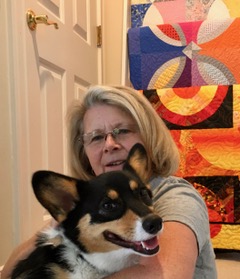 Rhonda & Blue
Blue is a 18 month old Welsh Pembroke Corgi. We brought her home at 8 weeks and have always planned on training her to be a therapy dog. The therapy dogs at Duke Hospital were such a comfort to my husband during his cancer treatment, and we wanted to share that love with others.
Blue is the sweetest, most gentle dog, and she was born for this. At home, Blue loves to swim, play with a variety of balls, and chase the occasional squirrel. Blue is an absolute delight.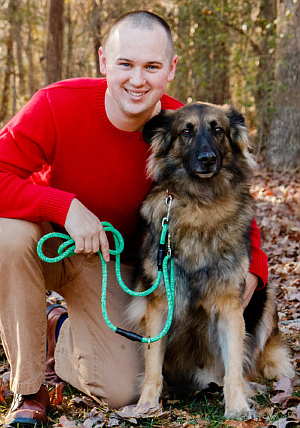 Steven & Dutch
Dutch is a long haired German Shepherd who currently visits Culbreth Middle school. My wife and I adopted Dutch when he was 5 years old, and he has become an amazing therapy dog. His sister (Abby) is also a therapy dog!
Dutch enjoys playing with the other dogs he lives with at home, and going on runs. I'm a Police Officer at a local police department and love to work with dogs
Susan & Charlotte
Charlotte is a Cavalier King Charles Spaniel who has been in training with me since she was a young puppy. She is a natural people pleaser and will happily sit in one's lap, if invited. Her calm demeanor and quiet presence makes for a very sweet companion who travels well on our adventures, particularly exploring and walking in nature.
She is certified with the AKC Canine Good Citizen standard and has been working on certification with the Love on a Leash therapy dog program. We have visited patients at the Ronald McDonald house and assisted living facilities.
I am a retired Registered Nurse, so helping people deal with issues with a calm therapy dog is a calling. We hope to bring additional joy to students in the school system through the PetPalsNC program. During her free time, she chases squirrels, butterflies, and watches birds and deer on our farm in Hillsborough.
Valerie & Annie
My name is Valerie and my dog is Annie, an 8-year-old English Setter. We have been a therapy dog team since 2011 and an animal-assisted crisis response team since 2013. As a therapy dog team we visit Pathways Elementary and Stanford Middle School, working with children in contained classrooms and also one-on-one as needed and with fourth graders as a pet education experience.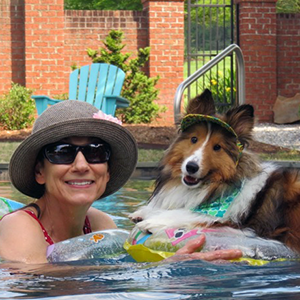 Vera & Beau
Vera and Beau have been certified as a team for 3 years and currently go to Stanford Middle School in Hillsborough, NC, during the school year as well as doing Exam Paws for both UNC and Duke at both the fall and spring semesters. He is one of a long lineage of Shelties they have had over the last forty years. When Beau came to join the family, we wanted to certify him at a young age. When he is not doing therapy, he is playing Frisbee or ball, with his babies (all 10,000), or running around the farm.
Wendy, Ella, & Foster
In my role as a social worker, I partnered for several years with my therapy dogs to help students in Orange County Schools, and the impact of those dogs on kids coping with all kinds of issues, was incredible! Julius, one of my three amazing therapy dogs, died in April 2017, leaving Ella and Foster to continue on with this important work. Ella is PetPalsNC's first therapy dog, and has worked with me since 2007, years before PetPals was an official organization. At 15 years old, she is testimony to the ability of dogs (like humans!) to be productive well into their senior years. I found Ella as a small pup, playing in the road, and this strong-willed girl soon ruled the household of multiple dogs and cats! Ella has brought joy and comfort to hundreds of students and school staff members over the years, and she looks forward to each visit at Grady Brown Elementary.
Foster literally walked into my and my husband Mike's lives from who-knows-where (or what) when he was a few months old. He is a natural therapy dog and greets every human he meets, which means it takes a while to navigate the halls in the schools! In addition to his work with his dad Mike, he tag-teams with Ella at Grady Brown, where he helps children with a number of challenges, including those severely impacted by autism.